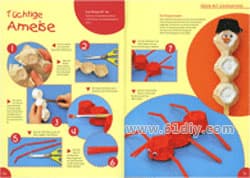 Ants need to prepare handmade materials: egg box, a straw, a few acrylic red pigment, fine brush, eye decoration scissors

1. First remove the three small boxes from the egg carton.
2. In order to make the shape round and smooth, you can use scissors to do some finishing work on the outside.
3. Then place a small hole in each side of each box to penetrate the ants' legs. Then put a hole in the top of the first box.
4. The body of the ant can now be colored with red fuel.
5. Cut the straw short and the fold on the straw is about the midpoint of the straw after the cut.
6. The straw used for the top of the head needs to be cut longitudinally from the middle of the straw (as shown) so that the ant can have two beautiful long antennae.
7. Next, we insert all the straws into the opposite holes and attach the prepared eye decorations.
8. Now our little ants can go to the forest for a walk.

Snowman This happy snowman is also made up of three egg boxes. It is small hat on his head, you just have to prepare a chicken egg cartons, and coated with black paint can. Carrot-colored nose, cut up and do it with a sponge.
Rope Toy,Rope Knot Toys,Rope With Plush Pet Toys,Rope With Plastic Pet Toys
Ningbo Dikai Imp&Exp Co., Ltd , https://www.longkaitoys.com